Collage on Screen
Thursday, 8 June 2023, 5:30-7PM
The Broad Theatre, New Orleans
Collage on Screen, an eclectic evening of moving images, is part of Kolaj Institute's Collage in Motion project, which explores collage and the moving image, a broad, loosely defined category that includes animations, film cut-ups, collage film, stop-motion, documentaries about collage artists, and other forms of media in which collage—as medium or genre—is present.
The ninety minute program presents twenty-seven films by over thirty artists from ten countries (including one collaborative collage film that has seventy-nine contributors). In the 2023 program, artists are working across disciplines and using painting, puppetry, dance, sound collage, comics, clay and other forms of craft to make films. Some artists use traditional methods of stop motion animation and collage film to make music videos, documentary films, and storytelling works while others are adapting the terrain of experimental video and video installation.
The subjects are as diverse as the methods: Absurdist takes on technology, consumerism, advertising, skateboarding and Sports Illustrated; A celebration of Kurt Schwitters, Hannah Höch, the film Battleship Potemkin, the quirky English strangeness of Britain's youngest post-punk band; an early 20th century, Black, queer Brazilian writer. Films explore failure as an artist, American art history; and art movements in the Scottish countryside. A busy Berlin crosswalk becomes a metaphor for how quantum physics understands the behavior of subatomic particles. Artists draw from the visual legacy of wacky 90s television, 70s girl comics, vintage science education, landline telephones, linozip safety cutters, and phenological cycles in the garden. Filmmakers wrestle with migration, historical memory, the romantic melancholy of childhood, symbols in social media, and rage at the state of race relations in America. Films reflect on the pandemic and the war in Ukraine from the perspective of Argentina, Israel, and Germany. Yankee whaling-inspired puppetry retells the Greek myth of Scylla & Charybdis.
"We see our role as not one of defining 'collage in motion', but as one of asking what 'collage in motion' can be," said screening curator and Kolaj Institute director Ric Kasini Kadour. "Our hope is that this presentation inspires audiences to seek out Collage in Motion and revel in the complex and diverse cultural expression it offers us. We hope it inspires artists to make new works that challenge our understanding of what this film genre can be."
For the Collage in Motion project, Kolaj Institute see its role as not one of defining "collage in motion" but as one of asking what "collage in motion" can be. The project manifests as articles in Kolaj Magazine, an online directory, workshops, residencies, and screenings. Artists with a practice of Collage in Motion are encouraged to submit to the online directory.
Tickets
One ticket to Collage on Screen is included with registration for Kolaj Fest New Orleans 2023. Due to limited seating, attendees are required to reserve a seat via the Collage on Screen Eventbrite. A link directly to the ticket was emailed to Kolaj Fest New Orleans 2023 registrants directly from Eventbrite. If you do not have the code and would like to register, see us at the Info Table before 4PM on Thursday. Tickets for the general public are $10.00 each. AVAILABLE HERE
Bookings
Collage on Screen is available to travel and be shown at film and animation festivals, art events, anywhere collage in motion fits in with programming. Contact Kolaj Institute at info@kolajinstitute.org if you or your organization is interested in screening Collage on Screen at your event.
PROGRAM
In order of appearance

Linozips
by Shoshana Spencer
stop motion; collage, clay, found objects; 46 seconds; 2017
Brooklyn, New York, USA artist Shoshana Spencer made the collage film, Linozips, using printed ephemera, found objects, colored papers, and clay. "I composed each scene as I would an analog collage by juxtaposing different elements together on a flat surface. Then, I animated materials, objects or paper either by moving them along a path, or by altering their appearance," writes the artist. "I want to invite moments of curiosity from my audience, encouraging them to think how the animation was made, and what it all might mean. I also hope that my film will capture a spirit of play and whimsy, and inspire others to imagine new possibilities for their collage work beyond the flat page."

João do Rio
by Mauricio Planel
digital; 1:15 minutes; 2018
Originally from Montevideo, Uruguay, Mauricio Planel works as an illustrator and animator in Rio de Janeiro, Brazil where he is a founding member of the Collagistas Sin Fronteras collective and member of the Brazilian Collage Society. João do Rio is a collage animation that pays homage to the early 20th century Brazilian journalist and playwright João Paulo Emílio Cristóvão dos Santos Coelho Barreto who presented himself as Brazil's "cursed Oscar Wilde" and which historian Luis Mott includes in his list of notable black homosexual writers from Latin America.

All Wrong
by Katie Jo Small
music video for Mickey Newball
film, digital; 4:07 minutes; 2021
A former New Orleanian who now resides in Portland, Oregon, USA, Katie Jo Small's music video for Mickey Newball's All Wrong is a collage film that combines new and found footage. "This song is about feeling like a failure as an artist, especially as an artist entering their 30s and feeling like you should have achieved more success by now. The video pokes fun at the indulgent self-defeatist in all of us, and draws from imagery that I enjoyed in childhood; it serves as a reminder that staying in touch with your inner child and making art for art's sake is enough."

Landline
by Minna Abalian
digital; handmade collage and digital compositing; 54 seconds; 2022
Based in Boston, Massachusetts, USA designer Minna Abalian "seeks to bring a unique perspective to the more mundane moments of life through her illustrations and films." She writes, "Collage has always been a way for me to express ideas and putting them into motion has been one of my favorite forms of filmmaking as of late. Building a textural landscape with found materials and digitally compositing footage into a cohesive concept has translated its way into all facets of my creative process and has allowed me to approach animation and illustration projects with a new perspective." Shutter is a "continuously shot stop motion film as a nod to the many forms of analog image capture technology." Landline is a "love letter of thanks to the international network of friends that have supported my creative journey."

Untitled (2022)
David Rushton with Denise and Mark Zygadlo, Amy Marletta,
Laia Gimeno, Olivia Irvine, & Raine Talley
stop motion; 9:36 minutes; 2022
David Rushton's short, stop motion film about Kurt Schwitters, Untitled (2022), will receive its North American debut. Untitled (2022) is a ten-minute stop-frame animation based on imagined memories of German refugee artist Kurt Schwitters during his final months in Ambleside, Cumbria, England. The film was produced, directed and edited by David Rushton for MERZ and Summerhall TV with invaluable contributions from Mark and Denise Zygadlo, Amy Marletta, Laia Gimeno, Olivia Irvine and Raine Talley. Rushton premiered the film at the reunion of the Schwitters' Army at MERZ in Sanquhar, Scotland on 10 September 2022. The film was one of 50 selected for the European Short Film Festival in Berlin, December 2022. An article about the film appears in Kolaj 37.

ad attac (retro)
by Beate Gördes
digital; 2.32 minutes; 2022
Eat, drink, kiss, or float on an inflatable unicorn. The film and sound collage, ad attac (retro), by Cologne, Germany-based Beate Gördes combines stock footage, old radio sound recordings, and artist-created snippets into a visual fantasia of 20th century advertisements. The film took 3rd place in the category of consumption at the 2022 INDUSTRIETEMPEL Awards in Ludwigshafen. Critic Jenny Graf-Bicher writes, "Beate Gördes' video works invite us to immerse ourselves in the surprising simplicity of events, in their beauty, in the joy of life or the melancholy that emanates from them."

The Sower
by Claudine Metrick
stop motion animation with sound, digital; 2:05 minutes; 2021
In recent years, interdisciplinary artist and professor Claudine Metrick's interest in botany and the garden made its way into her studio practice. The Sower presents the phenological cycle of the seed as it sprouts, grows, flowers, fruits, and is ultimately consumed. "Collage allows for unexpected juxtaposition. These films explore the medium's possibilities across time. Just as images can be combined in surprising ways, real materials can be manipulated to create impossible scenarios," writes the artist. "The animations include collage elements such as hand-made flowers, bees, and butterflies that enact imaginary scenarios mythologizing the life cycle. This cut paper playground allows me to examine natural processes with an eye towards play and conjecture."

Hackescher Crosswalk
by Dan Hudson
5K collage; 1:10 minutes; 2013
Filmed over several hours from a tram stop on An der Spandauer Brücke in Berlin near the lively Hackescher Square, Canmore, Alberta, Canada artist Dan Hudson's Hackescher Crosswalk uses "time distortions and visual disruptions to explore how we experience the world around us. The process was inspired by the way that quantum physics describes subatomic particles as existing in a state of probability." The artist writes, "I adapted this notion as a strategy to create videos in which multiple segments of the image wander and change in unpredictable ways. The 'fragments' videos imagine how the visible world might look if it behaved similar to the subatomic world. Multiple moments in time are collaged together to create a singularity from the repetitive stop and go action of a crosswalk." A stand-alone work, the film is related to the four channel video installation, Fragments of a year – Berlin, 2012-2017, which is a yearlong cycle of collage videos separated into the four seasons.

Quand la nuit
by Fanny Wilhelmine Derrier
music by Melissa Jouvin
digital; paper collage, footage, photography; 3 minutes; 2023
Fanny Wilhelmine Derrier's collage animation is a response to the collage, Little Yoko, and a desire to broaden her practice. "Last summer, I attended the [Kolaj Institute] workshop 'Collage in Practice' and the idea of animated collage started in my mind." In the animated collage, Quand la nuit, Derrier offers us a dream-like childhood "set in a universe of romantic melancholy." She writes, "Through my process of reflection, my work becomes a playful and sensory experience that confronts our place in the joyful chaos of life. I offer the feeling of new harmonies in the face of our shared technological and environmental challenges."

Rabies
from Sound for the Future by Matt Hulse
collage by Jean McEwan; animation by Nick Currey; directed by Matt Hulse
digital; 1 minute; 2020
Rabies is a bit of "quirky English strangeness" that comes from Matt Hulse's 2020 Sound for the Future, a film about The Hippies, Britain's youngest post-punk band. Active in 1979, "I was the band's 11-year old makeshift-drummer, along with my brother, lyricist and my sister, keyboardist," writes Hulse. "Collage artist Jean McEwan created a palette of elements that animator and editor Nick Currey could work from. These were drawn from her own collections of ephemera, plus ephemera from my family archive. Three-way discussions led to a collaborative result."

Shutter
by Minna Abalian
digital; handmade collage and digital compositing; 35 seconds; 2022
(See Landline above.)

Quit Being Violent With Me (You Make Me Violent)
by JESSC.X
digital; 2:06 minutes; 2023
"I create work intended to usher all who witness it into a state of reverence for the past, understanding of the present, and ultimately hope for future futures," writes Boston-born and New Orleans-based artist JESSC.X. They made the still collage, Quit Being Violent With Me (You Make Me Violent), "during the Black Lives Matter uprisings as a way to process the rage I was feeling as a Black American." In 2022, they merged the still collage with an audio clip from a 1992 Tupac interview and footage of a burning landscape. "We all need to constantly be reminded of the fires building within the most disenfranchised members of our community, and more importantly, why these fires are burning in the first place."

Game On
by Aaron Johnson
digital; color; 51 seconds; 2021
From Orangevale, California, USA, Aaron Johnson presents two playful stop animation collages: "While at one point in my life I rode a skateboard, it was never like what you see people doing today. One thing that has not changed and that is hitting the ground...hard. The bigger you go the harder you fall. Here you see an old diehard skater having himself a mid afternoon desk nap and the resulting 'Crasher' dream." About the Sports Illustrated-inspired Game On, Johnson writes, "When the reader is away the games will play. The magazines have so much attitude inside them they play each other with whatever sport pops out. In the end one blows and blows away the other magazine and some of its own players and content as well."

Reverse Shadow
by Janie Geiser
sound by Janie Geiser; sound mix by Kari Rae Seekins; color by Caitlin Diaz; digital mastering by Astra Price
digital; color; 8 minutes; 2020
Los Angeles-based interdisciplinary artist Janie Geiser is interested in "the intersection of formal artifice and real issues and emotions. A central focus of my work revolves around found and constructed images/objects in the context of a fabricated world, and the relationship of the body, especially the female body, to this world. Using a spiral structure and a hieroglyphic vocabulary, meaning is constructed through association; truth is elusive, and the questions are often between the layers." The artist writes, "Reverse Shadow draws on a range of sources, from a child's target practice game to brochures of WW2 warplanes, medical books, panoramic photographs, and iPhone videos of airplanes, shot from the video location maps in front of airplane seats. Also included are public domain films from the Library of Congress. The sound collage includes, among other sources, recordings of Cold War shortwave 'numbers stations' and an Edison recording of the Rip Van Winkle story. Immersed in an atmosphere of suspended apprehension, we sense disaster is waiting, waiting to happen."

Public and Private Matters
by Máximo Tuja aka Max-o-matic
digital collage loop; 1:30 minutes; 2023
Max-o-matic is best known as the director of The Weird Show, a platform that promotes the most outstanding contemporary collage work. Public and Private Matters is an example of the artist's foray into animated digital collage. The artist from Sant Cugat del Vallès, Spain writes, "Drawing inspiration from Oulipo, Surrealism, and psychedelia, I blend appropriated images and bold colors to create thought-provoking and emotionally charged pieces. My technique emphasizes cutting over separating elements and combining them, allowing me to produce complex patterns that give rise to impossible, abstract, and meaningful images. My art aims to initiate conversations about the power of perception and the nature of reality. From exploring the subconscious to uncovering hidden connections between seemingly unrelated objects, I celebrate the vast potential of the human imagination."

Algún tipo de calidez (some kind of warmth)
by Zorki Films: Isaías Maiola Wheeler and Jimena Castiñeyras
music by Isaias Maiola Wheeler; animation on paper by Jimena Castiñeyras
digital; 3:06 minutes; 2022
In Zorki's experimental collage film, the viewer is greeted with a series of Cyrillic writings that translate to "The city speaks, we live despite everything, some kind of warmth," words of Ukrainian poet Mariya Agisyan. Algún tipo de calidez continues with a series of animated collages that reflect on the end of the COVID-19 pandemic in Argentina and the ongoing war in Ukraine. Zorki is made up of multi-instrumental musician Isaias Maiola Wheeler and collage artist, photographer and sociologist Jimena Castiñeyras. The San Antonio de Areco, Argentina duo see their work as merging new universes and telling stories.

Between a Rock and a Hard Place
by Jaime Bird
with music by Danny Clifton
digital; stop motion animation with paper puppets; 2:48 minutes; 2020
New Orleans artist Jaime Bird specializes in imaginative spectacles and installations, creating escapist universes through performance and sculpture. During the COVID-19 pandemic, Bird "built paper puppets and sets out of ink, watercolor, paper. I built a custom light table for shooting the animation on my kitchen table. The finished work relies on the Greek myths around the figures Scylla & Charybdis, women who were cursed by the gods to become sea monsters. To me, the work is about going through things which irrevocably change you and not being able to go backwards, but having to find a way to move on despite the things that chain you down." The animation was enhanced with music by Danny Clifton.
The artist writes, "Many of my narratives include reference to my family's ancestral past as whalers in colonial New England. Our Yankee heritage is formed from a blend of legends; made of fact, fiction, wisdom, and whimsy, which support a collective experience built on the imagination of its' residents. In my practice, I utilize my own amalgamation of history, flights of fancy, candor, buffoonery and nostalgia."

Potemkin Piece
by Justin Clifford Rhody
a collaboration of 79 artists
35mm to 4K digital; color; 1:35 minutes; 2022
Justin Clifford Rhody is a filmmaker, photographer, curator and sound artist based in Santa Fe, New Mexico, uSA. "Potemkin Piece a collaborative deconstruction/destruction of a Battleship Potemkin 35mm trailer created with seventy-nine collaborators through the mail during lockdown. Each person was sent half-second long strips of the film to manipulate in any way they wanted. Once returned, the film strips were spliced together in a new sequence creating a chance- driven score from the optical soundtrack. A messy experiment in montage and cut up techniques made by a diverse cast of artists, friends and loved ones."
A film by Justin Clifford Rhody in collaboration with (in alphabetical order): Hali Autumn, Craig Baldwin, Abby Banks, Roger Beebe, Neil Blakemore, Will Bruce, Anthony Buchanan, Lori Canada, Andrew Chadwick, Chouser, Stephany Colunga, Beth Cooper, Grant Corum, Michael Cruz, E Daley, Anya Davidson, Bryan Day, Natalee Decker, Colleen Donaldson, Vince Donovan, Lucy Dougherty, Dave Easlick, Christian Filardo, Dorey Fox, Sam Gaskin, Anita Gay, Dena E. Goldsmith-Stanley, Carlos Gonzalez, David Graves, Joshua Harper, Jake Head, Glenn Hendrick, Matthew Himes, Nathan Hollis, Robin Hustle, Zach Ippen, Will Isenogle, Jeffrey Jefferson, Kait Jensen, Levi Jensen, Megan Jones, Adam Keith, Jeremy Kennedy, Jay Kreimer, Stephany Lister, Mel Lister, Marissa Magic, Zak Marmalefsky, John McCormick, Taylor McGraw, Thomas Meluch, Lane Milburn, Megan Mirro, Lee Noble, Max Nordile, Jeff Offman, Eric Ostrowski, Selen Ozturk, Ali Padgett, Ben Phelps-Rohrs, Christopher Pierce, Frankie Polman, Adrian Saenz, Adam Schachner, Linda Scobie, Abigail Smith, Justin Smith, Vinnie Smith, Mike Stoltz, Andrew Storrs, Sean Sunderland, Swampy, Rebekah Teague, Bridget Venuti, Josh Vidal, Carrie Vinarsky, John Wheatley & Keith Wright. This film was created with support from the Interbay Cinema Society Lightpress grant.

Migrant Bird
by Nati Golan & Naama Arbtl
digital; mixed media collage animation; 3:10 minutes; 2022
Produced with the assistance of Sachsen Anhalt.
Nati Golan and Naama Arbtl are Israeli artists who live and work in Germany. They combine traditional collage with digital tools, "constantly pushing the boundaries of what is possible." Inspired by Israel's national poet, the 19th century writer Hayim Nahman Bialik, Migrant Bird blends dance videos, photographs, and paintings "to an imaginative and vibrant collage that opens up endless possibilities." The film "narrates a tale of inner turmoil and the challenge of reconciling one's present and past. We prioritized integrating the animation and dance seamlessly, ensuring neither overshadows the other. Our goal was to use both art forms to complement each other and convey the story's message lucidly." The film was originally presented as an Augmented Reality (AR) experience at the 2022 Jewish Art Festival in Halle, Germany.

Crasher
by Aaron Johnson
digital; color; 54 seconds; 2021
(See Game On above)

The Micturating Angel Cartoon (excerpt)
by Kristian Eldritch
digital; 9:56 minutes; 2018-2023
"Surreal/dada dialogue delivered by characters at home in a cut-up world, calmly taking part in baffling events. The collages create enough surprises to keep the viewer engaged and make them want to see where it's all going even if they have no idea what is actually taking place. In other words: a perfectly formed dream, presented as a cartoon." From Frankston, Victoria, Australia, Kristian Eldritch's The Micturating Angel is a 300-page, non-linear, collage comic book. Inspired by MTV's Liquid Television and the Australian television series Eat Carpet, Eldritch turned the comic book into an animated series, an excerpt of which is presented here. "The original collages were all scissors-and-glue collages. The two primary sources were photocopies of 70s girls' comics, and hardware catalogues. Add to that religious imagery, engineering graphs, the Simon Necronomicon, Gray's Anatomy, illustrations of bugs, bits from other comics/mangas and even auto-cannibalism of the work itself."

Unknown Source
by Paul Henderson
music by Jon Mckiel
digital; 2:11 minutes; 2017
Paul Henderson is an artist, designer and arts administrator in Sackville, New Brunswick, Canada, where he is currently the Director of Struts Gallery, an artist-run centre. Unknown Source is a video made by Paul Henderson, with music by Jon Mckiel. From the album Memorial Ten Count, released March 10, 2017 via Headless Owl Records and You've Changed Records. This video collage is made from found footage. Jon McKiel writes, Henderson "found the right weight of impermanence in an iceberg and thoughts of labour in the song's structure. Found footage on the Internet. Cut to the boom, boom, boom of the kick drum." The artist writes, "For me, collage is primarily about processing and responding to the world's ever-increasing repository of images. It is digestion, a meditation, and a slowing down on one hand but it is also about (hand) making things and creating new meanings through editing and juxtaposition."

The American Century
by Rachel Campbell Hewson
digital; 1:25 minutes; 2022
Based in Newcastle upon Tyne, United Kingdom, Rachel Campbell Hewson's practice "focuses on the manipulation and melding of images from art history, reflecting on femininity, history, love, life and death. It is centred around the reuse and recycle of the discarded and forgotten, aiming to give life again to the inanimate, to reframe depictions, reconsider icons and rhyme images, with an emphasis on practising a sustainable, eco-minded method of work." The artist writes, "The American Century was a brief history of American Art in the 20th century, beginning with early movements like Precisionism and the Harlem Renaissance, through to Abstract Expressionism and Pop Art onto the more identity focused art of the end of the century, concluding in postmodernism. I exclusively used American artists, specifically seeking underrepresented artists to re-introduce into the history. I wrote a script and related the animation to it, but with The American Century, the images used are chronologically organised."

Covenant of Schwitters' Army
by Ric Kasini Kadour
film; 6:30 minutes; 2022
The Schwitters' Army Collection of Collage Art is a permanent collection of international collage art at MERZ Gallery in Sanquhar, Scotland. The contributing artists are referred to as Veterans of Schwitters' Army. The Schwitters' Army Project is a performative piece of culture work that includes history making, event documentation, and archive building that demonstrates how art movements are manufactured. The Project operates through a series of declarations issued by the Convenor, Curator and Representative of Schwitters' Army Ric Kasini Kadour, V.S.A. These documents are signed and witnessed and generate ephemera which is placed in the archive. Declarations are both real documents and pieces of performance art in the vein of Yves Klein's Zones of Immaterial Pictorial Sensibility. In 2022, Kadour held a reunion of Veterans of Schwitters' Army where they paraded through the Scottish countryside and unveiled a historic blue plaque on the walls of MERZ. The film, Covenant of Schwitters' Army, is a reading of the primary declaration with footage from that event.

They the People
by Ryan Lewis
digital; 2:59 minutes; 2022
Ryan Lewis makes "stop-motion animation that traverses the boundaries of digital and tactile materials and processes. My process and craft is heavily informed by my experience as a graphic designer and type designer. Much of my work incorporates letterforms or font technologies, printed materials, design strategies, and digital tools. I seek to surprise and delight viewers and challenge their preconceptions." The Kalamazoo, Michigan, USA artist writes, "Symbols come with intended messages, but their most enduring associations accumulate over time. Symbols are not content, but are instead vessels in which content is stored. They the People invites reconsideration of a familiar national symbol. Animated fibers form a fragile, loosely-connected fabric that precariously hovers between order and chaos. The multi-colored threads coalesce into a dynamic but fleeting living entity. This delicate vision is disrupted by fields of flickering digital information. We are reminded that symbols are not static, but are living entities that change and shift over time. We are reminded that symbols are what we make them—they can represent our ideals and successes, but also our collective failures, insensitivities, overconfidence, and divisions."
"This piece incorporates sequences of manual stop-motion animation using physical materials such as colorful fibers, wax worms, and ground beef collaged with stop-motion animated digital forms and symbols collected from and inspired by social media contexts. These digital fragments are generated using original dingbats fonts. Dingbats fonts, such as Zapf Dingbats or Webdings, contain libraries of symbols and pictograms rather than letters, words and sentences. Each frame of digital forms is comprised of an individual tweet. The letters of the tweets are replaced by the symbols of the dingbats fonts. When combined, these tweets result in a flickering animation that obscures and interrupts the fragile fabric below. This technique recalls what post-modernist graphic designer David Carson famously did as the art director of Ray Gun magazine in the 1990s. Carson set an entire magazine article in the font Zapf Dingbats because he didn't consider the content of the article worth reading. Similarly, the tweets are translated into digital blather, stripped of their original meaning."

!!! techn010ffspring !!!
by Sarah Buckius
digital; 2:53 minutes; 2022
Sarah Buckius is an artist and educator in Santa Cruz, California, USA. "Recent creative work is situated in the space of absurdity at the point of disconnect between the seemingly coded/structured/ordered/production-based space of technology and the messy/complex/idiosyncratic space of humanity." !!! techn010ffspring !!! is an "animated film of absurdist technological beings birthed from 'IntertwinedHerStories' originating from the cross-section of *-gender-*-technology-*-lens-based-media-*-the human body-*-caregiving-*. These animations propose a reimagining of what 'technology' might mean in the context of an absurdist caregiving society and originate from an 'entangled constellation of caregiving' as subjects of care and caregivers themselves. They are digital assemblages of altered and combined imagery, found and developed, that assembles linkages between creative (technological and scientific) work of women from the present and past."

I Don't Have Time To Explain Molecules To You
by Scott Bateman
digital; 3:30 minutes; 2021
Scott Bateman is a filmmaker and animator in Beacon, New York, USA. I Don't Have Time To Explain Molecules To You "is collaged together from rotoscoped found video, found vintage photos, and words cut out from vintage science books, all found online. The images are inspired by the Cult of Kfyma's song, "I Don't Have Time To Explain Molecules To You". The artist writes, "When I was creating my recent feature film 5000 Space Aliens, I developed a collage-based animation style. Some of the footage is rotoscoped from found video and collaged together with words cut out of scanned-in vintage science books and other material found online. Some footage is created with vintage photos found in the Flickr Commons. I love putting disparate visuals together to create new meanings, and I especially love having the viewer try to make sense of the strange worlds found in my collage animation."

After the Screening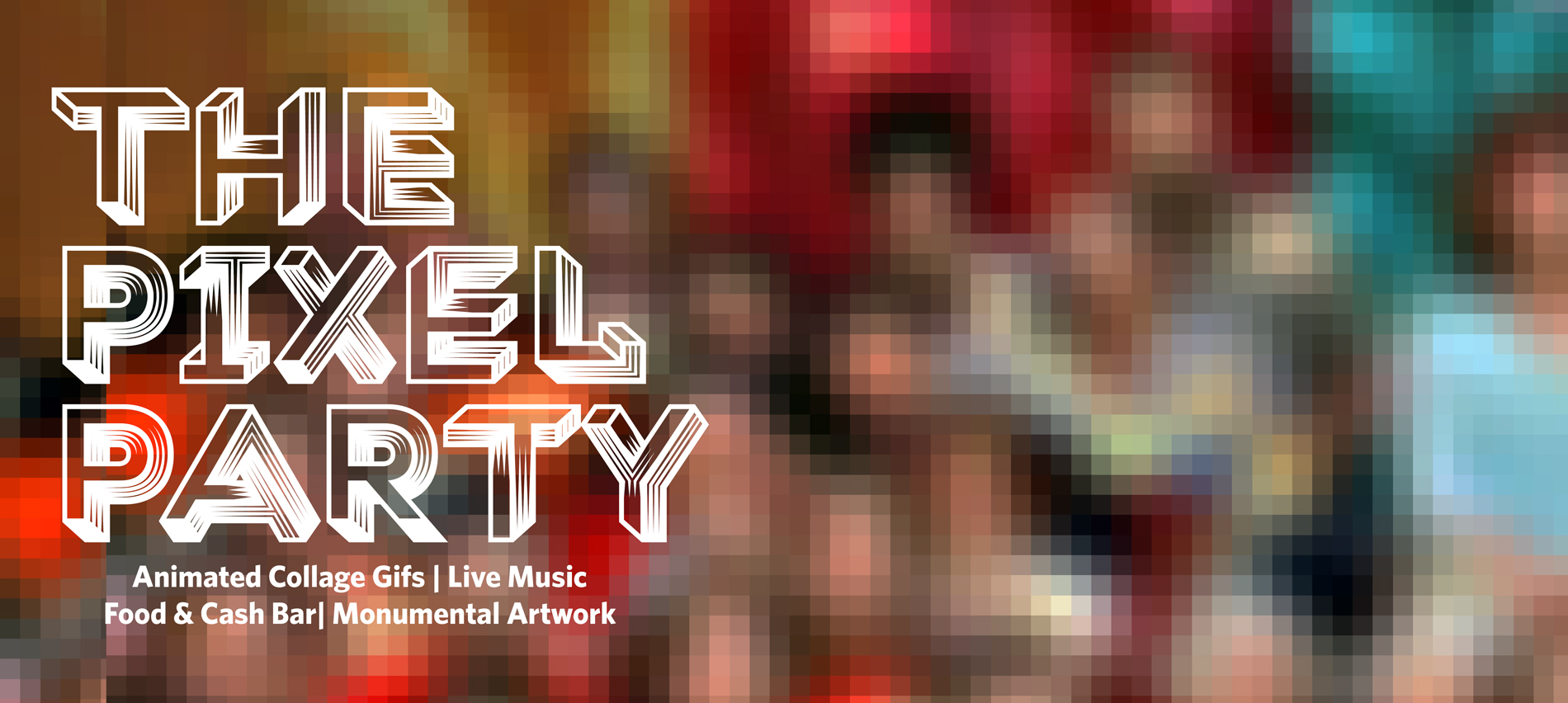 The Pixel Party
Thursday, June 8, 2023
@ The Broadside (600 N Broad St)
Doors Open 7PM.
After the Collage on Screen event, head next door to The Broadside for an evening of live music, food, cash bar, and projected animated GIFs. At the event, the Kolaj Fest community will assemble a monument 12-foot by 8-foot artwork. As you enter the event, you will be handed a pixel in the form of a 3-inch square collage and be invited to place it on a grid. As the evening progresses, an image will emerge. In doing this, we perform in a full-bodied, living, breathing way what occurs in digital space. LEARN MORE