What is World Collage Day?
Collage Rocks! We love collage so much, six years ago we created a magazine dedicated to contemporary collage.
Collage connects our eyes, our minds, and the muscles in our hands. Collage is accessible and democratic. All you need is some paper, some glue, and a pair of scissors. Collage gets us thinking differently. In the past 100 years, the medium has played a vital role in the advancement of art. Enthusiastic groups of artists come together to make collage regularly. Collage builds communities. Collage makes beautiful contemporary art.
"Part of what makes collage unique in the art world today is the enthusiastic, dedicated, friendly group of people who come together as a community. In the past six years of publishing Kolaj, we have seen countless collaborations, group exhibitions, meet-ups, and events," writes Ric Kasini Kadour in Kolaj #22. "On a regular basis we witness dialogue and a spirit of cooperation and care for one another. Sometimes the art world can be cold, competitive, money-driven, and frankly inhumane. But in this corner of it where artists hang out and make and share collage, we often find the opposite. We think that is awesome and we think the rest of the world should know about it."
To celebrate collage, Kolaj Magazine declared Saturday, May 12, 2018 World Collage Day.
We invite artists, art centres, museums, galleries, schools, and communities to celebrate the day by hosting events that bring communities together. Ideas include collage making meet-ups, docent-led tours of collage in a museum or gallery, activities for kids, slideshows or talks that appreciate collage's role in contemporary art & art history, exhibitions of collage, and more. We invite people to come together around collage in their own communities and to connect to the world digitally using the hashtag #WorldCollageDay.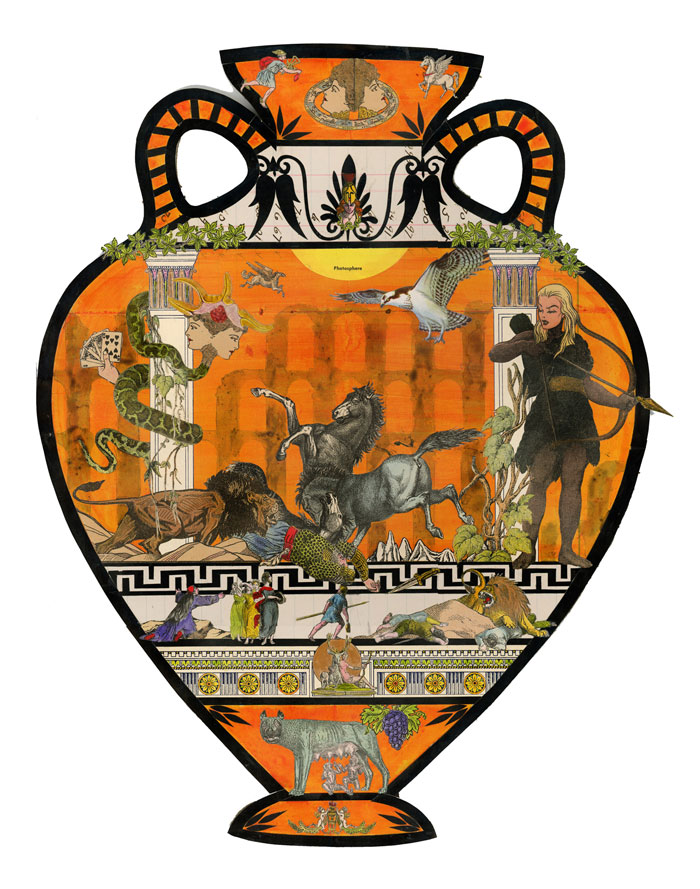 Image: Don't Play with Your Food
by Michael Pajon

Kolaj Magazine Announces Michael Pajon as the 2018 World Collage Day Poster Artist
For World Collage Day, Michael Pajon composed an image of an anthropomorphized bird, his human hands hold a pair of scissors and a banner heralding the day. Pajon's image will grace the cover of a Special Edition being prepared by Kolaj Magazine that features Cut Out Pages, artist profiles, and stories about collage. The image will also be made into an enamel pin.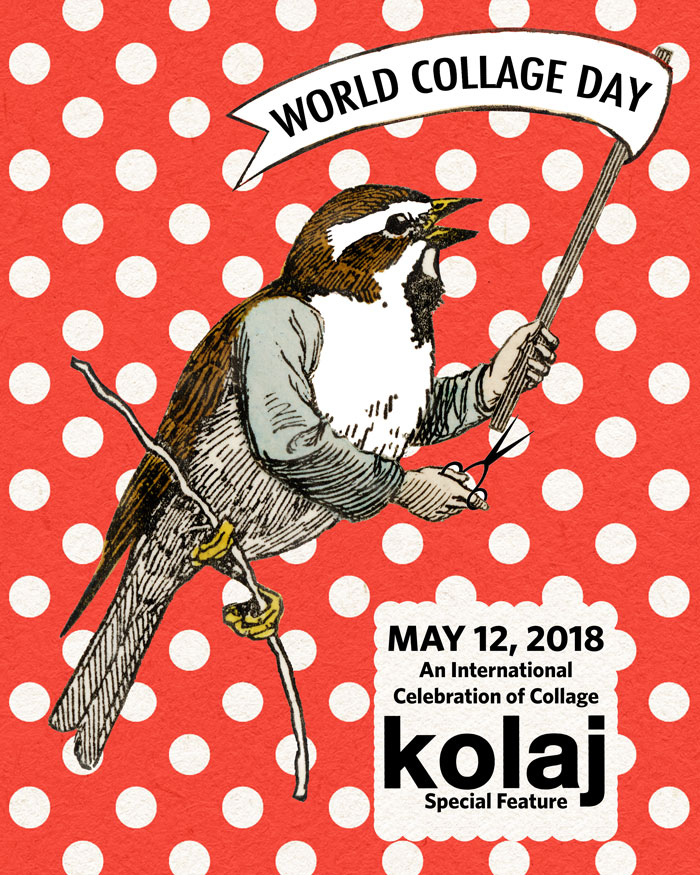 World Collage Day
Special Edition
"A love letter from collagists..."
In honour of World Collage Day on May 12, 2018, Kolaj Magazine is releasing a special edition for World Collage Day. The edition has Cut Out Pages, artist profiles, and stories about collage.
Also available is an enamel pin designed by Michael Pajon featuring the World Collage Day image.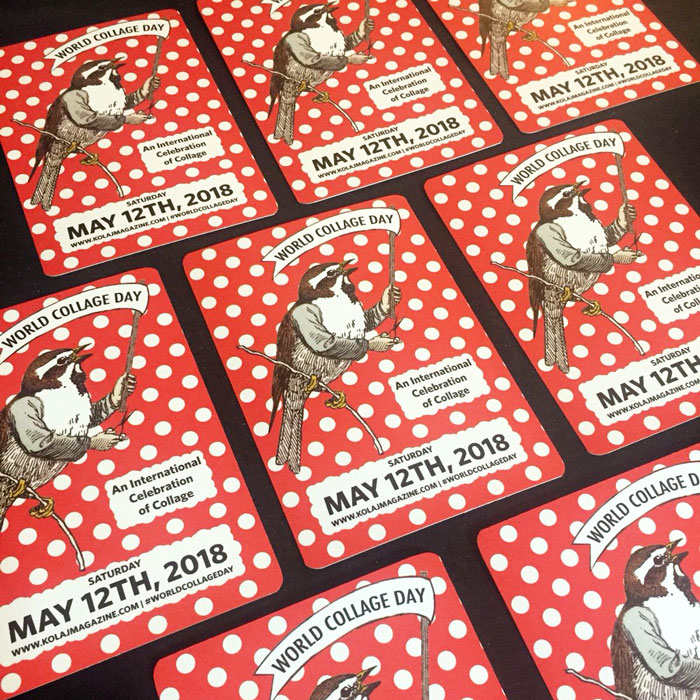 Kolaj Magazine is working with PRINTSHOP to make World Collage Day promotional materials available. Posters and postcards can be general or customized to a specific event.
If you would like to print your own poster, CLICK HERE to download a pdf.
If you would like to order printed posters and postcards, CLICK HERE
If you would like to customize the materials with your event information, send an email to PRINTSHOP after you place your order with the following information: Event title, location, address, time, and 5-7 word description.
Plan an Event
Planning an event is easy: Space, time, and activity. Who can you partner with? What organization can you reach out to host your activity? Once you know the details, submit the event. We will announce your event on thi swebsite and through our social media. When we receive your event, we will email with some helpful tips and other resources.
Spread the Word
You don't have to wait until May 12, 2018 to use the hashtag #WorldCollageDay. Hop on social media. Post images. Share what you will be doing to celebrate World Collage Day. Contact your local media and let them know about World Collage Day and ask them to cover the event in your area. Follow Kolaj Magazine on Social Media:
Share your ideas
Send an email with your ideas, dreams, hopes for World Collage Day.

We need your support!
Planning a day of global domination is expensive! Please consider supporting World Collage Day by subscribing to the Kolaj Magazine, purchasing back issues, ordering Collage Artist Trading Cards, or making a contribution to help us pay for advertisements and other materials that help spread the word about World Collage Day.
About Kolaj Magazine
Kolaj Magazine is a quarterly, printed magazine about contemporary collage. We are interested in how collage is made, how collage is exhibited, and how collage is collected. We are interested in the role collage plays in contemporary visual culture. Kolaj is a full colour, internationally-oriented art magazine. Kolaj is published in Montreal, Quebec by Maison Kasini. Visit Kolaj Magazine online.
HOME | ABOUT | GET THE MAGAZINE | ARTIST DIRECTORY | SHOP