World Collage Day is May 11th, 2019
What is World Collage Day?
The world is coming apart. Global cooperation is in decline. Countries are arguing about each other's debts, forcing some into austerity. Nationalism is on the rise. Long-standing cooperative agreements are being broken. All of this is taking place at a time of extreme wealth inequality and the looming disaster of climate change.
We launched the first World Collage Day on May 12, 2018 with over 50 events in 26 countries. A group of artists turned the twenty-four phone booths on Brussels' busiest train platforms into mini-art galleries for the day. A duo in the seaside town of La Rochelle, France walked around installing collage on public walls. In St. Petersburg, artists organized a collage-performative action at a half-abandoned factory as a prayer for peace. From Edinburgh to Cape Town; Montreal to Portland to Sao Paulo, Brazil, collage artists held exhibitions and workshops. Using the hashtag #WorldCollageDay, they posted their activities and creative output to social media. World Collage Day's success is a testament to the community spirit of collage artists and their ability to come together and make magic happen.
World Collage Day is about artists connecting across borders against a global context of entrenchment and separation. And the day is about an art medium that excels at bringing different things together to create new forms and new ways of thinking.
We created World Collage Day because we wanted to honor this community of artists and to remind the world what a spirit of cooperation, mutual support, and creativity can look like.
"Part of what makes collage unique in the art world today is the enthusiastic, dedicated, friendly group of people who come together as a community. In the past six years of publishing Kolaj, we have seen countless collaborations, group exhibitions, meet-ups, and events," writes Ric Kasini Kadour in Kolaj #22. "On a regular basis we witness dialogue and a spirit of cooperation and care for one another. Sometimes the art world can be cold, competitive, money-driven, and frankly inhumane. But in this corner of it where artists hang out and make and share collage, we often find the opposite. We think that is awesome and we think the rest of the world should know about it."
To celebrate collage, Kolaj Magazine declared the second Saturday of May to be World Collage Day.
We invite artists, art centres, museums, galleries, schools, and communities to celebrate the day by hosting events that bring communities together. Ideas include collage making meet-ups, docent-led tours of collage in a museum or gallery, activities for kids, slideshows or talks that appreciate collage's role in contemporary art & art history, exhibitions of collage, and more. We invite people to come together around collage in their own communities and to connect to the world digitally using the hashtag #WorldCollageDay.
IN PRINT
In honour of World Collage Day, May 11, 2019, Kolaj Magazine is releasing a special edition of the magazine. The Special Edition is full of stories about inspiring collage artists and advice for making, seeing, being collage. The World Collage Day 2019 Special Edition includes the special edition booklet, a World Collage Day 2019 poster and a pack of 8 postcards featuring the collage of Rosie Schinners.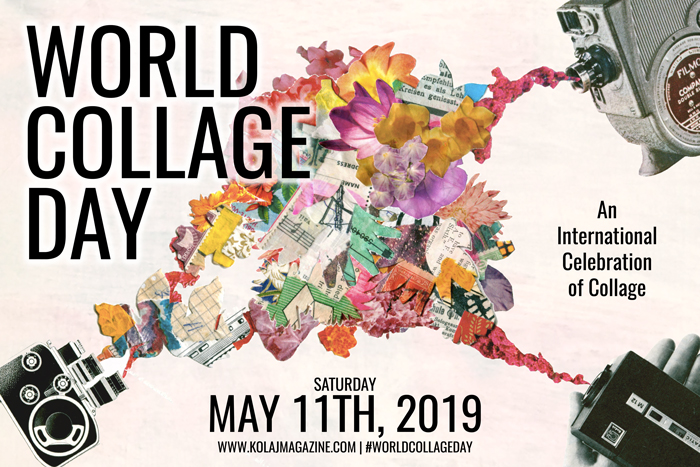 POSTER ARTIST
"Her combination of magical realism, heuristic nature, and poetic, outward-looking expression seemed to express something similar to the idea behind World Collage Day: That even far away from each other, we can come together as artists, work our magic, and put something beautiful into the world. For this reason, we have selected Rosie Schinners as the 2019 World Collage Day Poster Artist." READ MORE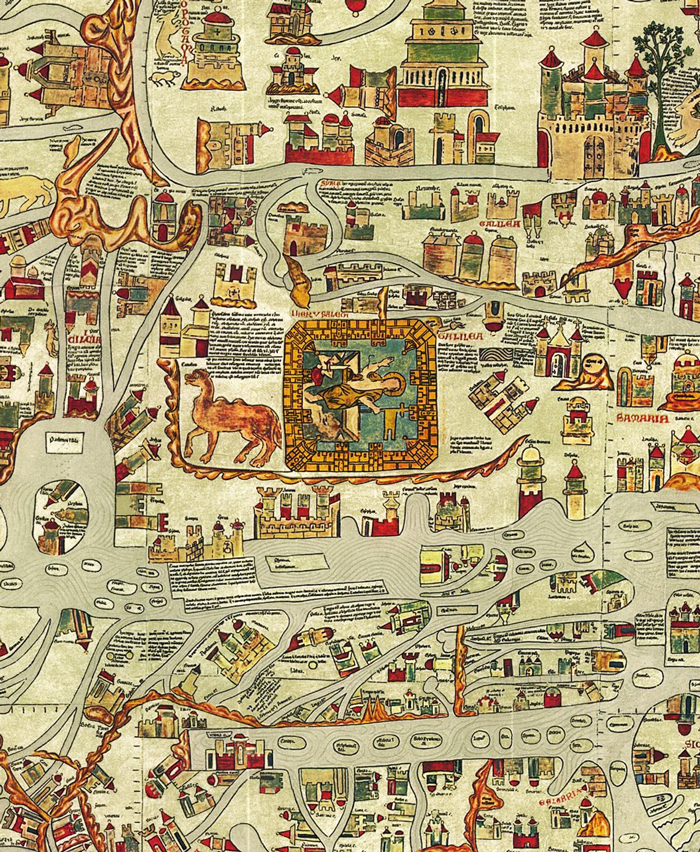 COLLAGE PROJECTS
For World Collage Day, May 11, 2019, the Belgian collage collective, Coupee, invites analogue collage artists from around the world "to map the limitless diversity and beauty of worldwide contemporary analog collage in a unique World Collage Atlas." To make this happen, Coupee is offering pages from its copy of Patria's Atlas of the World, published in Antwerp in 1939. Beautiful, thick and big, the atlas has 366 pages of maps in colour and black-and-white illustrations. MORE
Plan an Event
Planning an event is easy: Space, time, and activity. Who can you partner with? What organization can you reach out to host your activity? Once you know the details, submit the event. We will announce your event on this website and through our social media. When we receive your event, we will email with some helpful tips and other resources.
Spread the Word
You don't have to wait until May 11, 2019 to use the hashtag #WorldCollageDay. Hop on social media. Post images. Share what you will be doing to celebrate World Collage Day. Contact your local media and let them know about World Collage Day and ask them to cover the event in your area. Follow Kolaj Magazine on Social Media:
Share your ideas
Send an email with your ideas, dreams, hopes for World Collage Day.
Got a story to share? We are looking for stories from artists about how they started with collage, what the medium means to them, or other interesting anecdotes. Send an email with your ideas.

We need your support!
Planning a day of global domination is expensive! Please consider supporting World Collage Day by subscribing to Kolaj Magazine, purchasing back issues, ordering Collage Artist Trading Cards, or making a contribution to help us pay for advertisements and other materials that help spread the word about World Collage Day.
About Kolaj Magazine
Kolaj Magazine is a quarterly, printed magazine about contemporary collage. We are interested in how collage is made, how collage is exhibited, and how collage is collected. We are interested in the role collage plays in contemporary visual culture. Kolaj is a full colour, internationally-oriented art magazine. Kolaj is published in Montreal, Quebec by Maison Kasini. Visit Kolaj Magazine online.
HOME | ABOUT | GET THE MAGAZINE | ARTIST DIRECTORY | SHOP